There are plenty of social media sites out there and LinkedIn is one of the most popular. Unlike Facebook, which caters to users of all ages over 13, from all walks of life, and with all kinds of interests, LinkedIn is far more focused. LinkedIn is the best social media site for professionals, businesses, and freelancers alike. There is no room here for teens or hobbies. This is a site that allows you to promote yourself and your company and to network with other businesses within similar markets.
One of the powerful tools that LinkedIn has to offer is the ability to search. When you know how to get the most from your LinkedIn searches, you can truly get the most out of the site. LinkedIn is built on a highly evolved platform with a well-developed search platform that is broken into six separate sections. Each of these sections will offer you a mix of suggestions as you type. The advanced search is a very powerful tool.
The search bar is found in the top left of the screen, and the each section can be selected from the drop down option to the right of the box.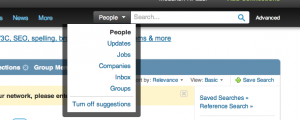 Searches can be filtered by checking the required boxes to the left hand side.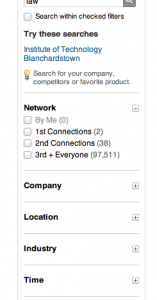 6 Sections for Advanced Searches
Here is the brake down for the six individual sections for your advanced searched.
Updates
You can filter your results based on your connection level. You can set updates from your immediate network from friends of your friends, friends to friends, or your third level marketing. You can also filter by time, location, range, etc.
People 
You can filter by relationship, location, school, and industry. There are several more options available if you have a premium membership.
Jobs
You can filter by how current the jobs are, the industry they are in, the experience that is required, etc. There are a number of other search options available in this section.
Companies
You can filter by industry, location, company size, relation, fortune, etc.
Groups
In groups you can filter by language and category.
Answers
You can filter by categories, and you can even add multiple categories.
With so many options, you shouldn't have too much difficulty seeking out exactly what you need, especially if you also use the search Boolean operators. Using these operators, you can exclude words, add words, combine two or more phrases, and add that final touch to your search. Tweaking ensures you get the exact results you were looking for.
Understanding how to use the LinkedIn searches to their fullest capability offers you stimulating opportunities that will inspire you to search more creatively not just on LinkedIn but on other social media sites too.