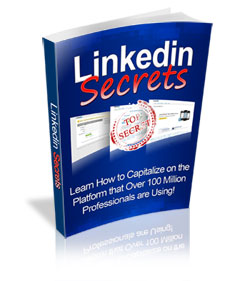 If you feel like social networking is a waste of time, and your Facebook and Twitter accounts aren't bringing in business like they should, then you need to…
Learn the Secrets of Making Powerful Connections on the World's Most Popular Professional Networking Site
Dear Friend,
You've probably heard all the hype about social media marketing. Claims that Facebook is a critical component of every successful marketing plan, or that without a Twitter following of thousands you're sunk have been repeated so often they've become something close to legend. And maybe they're even true for some business models.
But for others, these and other "social" networks just don't have the strength of another, lesser used network.
For professionals like you, in every field imaginable, the real networking power doesn't lie in the social sites. It's in a unique site that emphasizes professionalism and career advancement over viral games and hashtags. What is this unknown network? LinkedIn.
Not Another Social Network
Maybe you've heard of LinkedIn. Perhaps you've even signed up and filled in your profile. You've probably connected with a few members of your online circle, but if you're like most people, that's where you stopped.
Maybe you were overwhelmed by all there is to see and do on LinkedIn. Or perhaps you simply didn't want to invest the time and energy into yet another low-return, time-sucking social network. After all, you barely have time to check in on Facebook.
Here's the problem. If all you ever do with your LinkedIn account is fill out your profile and make a few connections, you will definitely get no return. And if all you ever do is respond to connection requests without delving deeper into the LinkedIn tools and networking events, you will continue to feel it truly is nothing but a waste of time. And you'd be wrong.
Why LinkedIn?
With literally dozens of other networking sites out there, including many that have the potential to skyrocket your sales with one viral video or ad campaign, why would you want to immerse yourself in yet another network?
That's easy. Take a look at some of these benefits:
One hundred million users - And when you stop to consider the highly targeted, goal oriented nature of those users, it's easy to see why this relatively small number of participants has amazing power.
Mature network - LinkedIn is not some here today, gone tomorrow social scene. It's been online and improving steadily for more than eight years, giving it a well-deserved reputation for attracting the top performers in each field.
Focused audience - Without the distractions of games, memes, and photos that clog up the other networks, LinkedIn gives users a place to conduct business without all the nonsense – saving you valuable time.
You can see that LinkedIn is clearly different from other networking opportunities out there. You won't be competing to be heard among the noise, and best of all, you'll be surrounded by others whose goals closely match yours: more business, more profits, more opportunities for growth.
Making the Most of Your LinkedIn Account
Since LinkedIn is so different from other social networking sites out there, you need to know a few things before you really dig in and start connecting. That's why I've put together this comprehensive guide – to help you avoid the pitfalls and make the best use of your limited networking time. Inside I'm sharing all the secrets I know about using LinkedIn, like:
How to create a compelling company page – Get this wrong and you'll turn your audience away before you get a chance to engage them.
How LinkedIn News can help you stay current – This is not a page you can just pass by on your way to somewhere else!
How use LinkedIn Answers to teach AND learn – This little-used tool is your key to building a professional reputation in no time, so you don't want to miss it.
Of course, there's far more to using LinkedIn than I can share in a few paragraphs. This is a huge site, with numerous uses and benefits for every professional in every field. But I've covered everything you need to know in an easy-to-read guide – complete with screenshots!
Your LinkedIn Education
Getting started with LinkedIn is easy. You've probably already done it, which is why I don't waste your time with those details in this guide. What I do share are more advanced techniques designed to have you networking like the professional you are in no time. Here's what you'll learn: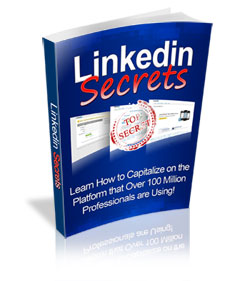 How to use InMaps to visualize your network so you can easily see where you need to concentrate your networking efforts.
How to use Signal to see only what's most relevant to you and your business.
How to join and use Groups to connect with other professionals in your niche.
How LinkedIn Events provide yet another opportunity for networking – and how to find the most important events in your niche.
When it's time for you to upgrade to a paid account, and the benefits you'll enjoy when you do.
You'll also quickly learn how to:
Integrate your LinkedIn profile with your blog, for more exposure and a larger readership.
Use the LinkedIn recommendation system – here's a hint: use caution, otherwise you might inadvertently damage your own reputation.
How to integrate your Twitter account – without sharing too much personal or inappropriate information.
You can see there's lots to learn about LinkedIn, and it will take you a while to get to know everything about the network, but I can promise you that it's time well spent. Simply put, LinkedIn is the best networking tool for professionals, and I wouldn't say that if I wasn't enjoying the benefits of this powerful online network myself.
But even if you find this report doesn't meet the needs of your business, you'll be glad to know about my…
30-Day Money-Back Guarantee
Your purchase of my report comes with comes with my no-risk, 100%, unconditional money-back, 30-day guarantee!
My special report will help you develop a comprehensive & profitable LinkedIn plan for your business.
But if, at any time during the next 30 days, you don't feel it makes good on my promise, or helps you in any way, confidently ask for an instant refund.
Order Form
YES! Please send me a copy of the report right now so I can
learn how other online marketers just like me are using LinkedIn to build a stronger business.
I understand this report will save me months of valuable time and untold amounts of money by teaching me the
critical marketing techniques necessary for my business to stay in front of the competition.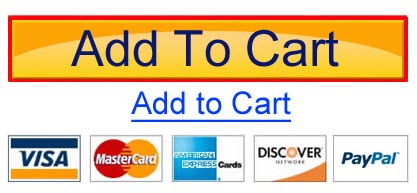 (only €27)