LinkedinTraining.ie also offers Guest or Keynote Speakers to talk at conferences, events, universities and corporate meetings. One of our teams and in particular one of my passions is getting up in front of a room of people who are eager to learn how to either grow there business using Linkedin, use this powerful tool to find a job or even recruit top talent to your company..
Our speaker will deliver an interesting and informative presentation, and can cover many areas and different topics.
Our speaker will have an extensive knowledge of Linkedin and the best methods of improving and perfecting your Linkedin profile.
We can cover topics such as utilising features like recommendations, groups, events, questions and others to build awareness for you and your company.
The LinkedIn Advantage
No doubt there are many great speakers out there that can talk about big picture regarding strategies for using social media, but one it comes to Linkedin and getting the advantage using this great tool then you'll find that no one is a more qualified specialist on LinkedIn than I am.
Through continuous training and dedicated use I have personally mastered the major concepts behind LinkedIn and have discovered the inner secrets to building your business, recruiting top talent and finding an exciting new career.
With over €100,000 as the average household income per user on LinkedIn, and close to 45% of its members being business decision makers, LinkedIn is–hands down–the most powerful business network online today.
In my presentations, I will give you inside information on how to use LinkedIn to: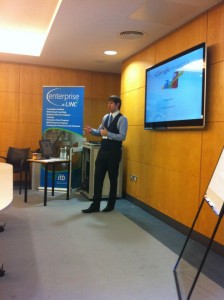 What you can realistically expect to get out of LinkedIn.
How To Generate more leads.
Generate more sales.
Drive traffic to your website.
How to grow and manage the contacts in your LinkedIn network.
Find your dream job.
How to start and join groups to enhance your networking opportunities.
Build your database.
How to create events in LinkedIn.
How to leverage advertising opportunities on LinkedIn.
Find investors

Click Here Now to contact my team of Linkedin experts and inquire about a customized LinkedIn presentation for your next conference, workshop, seminar or corporate meeting. Call Us Now On +353 1 885 1526